description of the product
burglary resistance class RC2
HEAT
TRANSFER
COEFFICIENT Ud=0,83* W/m2K
Single-leaf door with side screens
Doors in rebated system with fanlight in one frame.
Door leaf constructed of a pine wood rail and stile set reinforced
with a steel profile, topped with two wood-like boards covered
with natural oak veneer. Surface of boards painted with covering
or transparent paints. In-fill made of thermal insulation layer.
Leaf thickness: 80 mm. Oak door frame.

Single leaf door
Door in the rebated system. Door leaf constructed of a pine wood
rail and stile set reinforced with a steel profile, topped with two
wood-like boards covered with natural oak veneer. Surface
of boards painted with covering or transparent paints. In-fill made
of thermal insulation layer. Leaf thickness: 80 mm. Oak door frame.

• multi-point automatic lock with day/night function
• modern design
• PROTOR paint system - 15 year warranty
• burglary resistance class RC2
• integrated fanlight in one frame
• reinforced rail and stile set
STANDARD EQUIPMENT
oak door frame 100x70 mm, black colour
transparent 9005
black oak threshold with a protective aluminum profile
levering protection system
double weather strip system (around the door leaf
and the door frame perimeter)
three-pane burglar-proof glass packet with Chromatech Ultra warm
frame in the fanlight, in standard the choice of transparent or coloured
glass in grey, brown or green. Coefficient Ug=0,5 W/m2K according
to EN 674.
screw-in hinges adjustable in three planes in the colour
of silver - 4 pcs, hinge caps in the colour of black
MACO multi-point strip lock (2 bolts, 2 hooks, master cylinder),
automatic locking without a key. Lock with day/night function,
day function which can be activated by moving the sliders on the lock
strips and allows keyless opening of the door from the outside.
class 6 cylinder: 55G/50, black colour
pull handle on the outside, handle on the inside - set in black
doors opened outwards
ADDITIONAL EQUIPMENT (available at an extra charge):
concealed door closer
glass: Mirastar ("Venetian mirror"), reflective glass
STOPSOL (grey, brown, green colour), mat glass
SPECIFICATIONS
heat transfer coefficient: Ud=0.88 W/m2K for door with sidelight,
with a width of "150", according to PN-EN 14351-1+A2:2016-10
heat transfer coefficient: Ud=0.83 W/m2K for door with a width of "90",
according to PN-EN 14351-1+A2:2016-10
burglary resistance class EN 1627 RC2
Select a model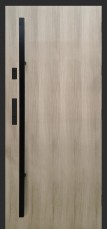 00
02
TRANSPARENT PAINTS - OAK
COVERING PAINTS
008 anthracite (RAL 7016)
Inspirations