description of the product
ARGALI
CONSTRUCTION OF THE WING:
Door in the rebated system. Door leaf constructed of a pine wood rail and stile set reinforced with a steel profile, topped with two
wood-like boards covered with natural oak veneer. Surface of boards painted with covering or transparent paints. In-fill made of thermal insulation layer. INOX stainless steel application on the external surface of the leaf. Leaf thickness: 81 mm.
STANDARD EQUIPMENT (INCLUDED IN THE PRICE):
door frame: 100x70 mm (pine door frame: covering paints; oak door frame: transparent paints)
oak threshold with aluminium profile
levering protection system
double weather strip system (around the door leaf and the door frame perimeter)
anti-burglary triple glazing unit with the Chromatech Ultra spacer frame
screw-in hinges adjustable in three planes - 4 pcs
FUHR four-point two-cylinder handle-activated strip lock (2 bolts and 2 hooks), locked by raising of the handle, upper cylinder independent, spacing: 92 mm
doors opened outwards
ADDITIONAL (available at an extra charge):
hinge caps - 1 set (2 pcs per one hinge)
class 6 (C class) cylinder: 55G/50 (complete set – 2 pcs with a knob)
GARDA handle
ADDITIONAL INFORMATION:
heat transfer coefficient: Ud=0.78 W/m2K for W00 pine door with a width of "90", according to PN-EN 14351-1+A1:2010
heat transfer coefficient in a class P4 anti-burglar glazing unit with a transparent glass pane Ug=0.5 W/m2K according to EN 674
burglary resistance class EN 1627 RC2
To ensure that the door meets anti-burglar specifications, door handles should comply with min. class 2 anti-burglar resistance rating in
accordance with the PN-EN 1906:2012 standard whereas door lock cylinders should comply with min. class 4 key-related resistance rating
and min. class 1 attack resistance rating according to the PN-EN 1303:2007+AC:2008 standard.
Select a model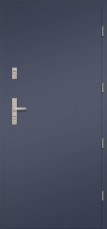 W00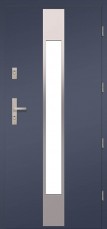 W01
W02
W03
TRANSPARENT PAINTS - OAK
1040 impregnation agent - oak
COVERING PAINTS
004 bronze (NCS s8010-Y90R)
System
REBATED SYSTEM
Surface
COVERING PAINTS
TRANSPARENT PAINTS
CAD library
GROSS PRICE FROM
5135,25 PLN
remember
Inspirations