description of the product
RC4 EI30
CONSTRUCTION OF THE WING:
Interior entrance door are designed as closures for interior passages between a staircase or a corridor and rooms. Opened inwards and
outwards.
Special POL-SKONE structure based on a solid wood rail and stile set reinforced with plywood. The in-fill is a set of chipboards reinforced
with steel bars. Door leaf thickness 50 mm. Fixed metal door frame made of 1.5 mm thick DC01 sheet metal, stainless steel 1.5 mm thick threshold.
STANDARD EQUIPMENT (INCLUDED IN THE PRICE):
strip type lock with a five-point locking bolt system
adjustable angle 3D hinges – 2 pcs
security bolts - 5 pcs
Toronto handle and rose by Axa - silver colour
complete set of class 6 cylinders
DOOR FRAMES:
rebated SYSTEM: fixed metal door frame
ADDITIONAL (available at an extra charge):
CPL 0.5 mm, 0.7 mm laminate
fixed metal RC4 door frame, sheet metal DC01, thickness: 1.5 mm
stainless steel 1.5 mm thick threshold
panoramic viewer
TORONTO handle colour change to black
TORONTO upper rose colour change to black
class 6 cylinder colour change to black
edges in other colours are available - upon consultation with the Sales Department
DIMENSIONS:
Doors with a metal door frame: 904x2066 mm, 1004x2066 mm, 1104x2066 mm
90 Plus version (allowing to get the clear opening of min. 900 mm when the door leaf is opened at an angle of 90°): 1024x2066 mm
Doors with non-standard heights are available
maximum size 1104x2166 mm
ADDITIONAL INFORMATION:
burglary resistance:
class RC3 according to PN-EN 1627:2012, class C according to PN-B-92270:1990
acoustic insulation: Rw= 37 dB, D1-35, D2-30
mechanical strength: classс 4 according to PN-EN 1192:2001
mechanical durability: class 5 according to PN-EN 12400:2004
Select a model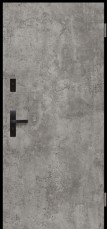 full 00
Inspirations