description of the product
WOOD-ALUMINIUM
An innovative version of HS windows characterised by
panoramic fixed glazing. The glazing of the fixed sash
is embedded in the threshold and thus flush with the
floor. In addition, frameless fixed glazing on the side
and top provides maximum light into the room and a
panoramic view of the garden. The modern character
of the window is completed by the external aluminium
cladding with a contemporary profile.
STRUCTURE
single frame terrace window, the leaf thickness 78 mm with cladding 91 mm, frame thickness 198 mm with cladding 211 mm, system without glazing beads on the inside
MATERIAL
glued laminated pine wood, optionally oak
FINISH
water soluble covering paints or transparent paints, a three-layer covering system, a four-layer transparent system; aluminium
powder painted aluminium, the RAL basic colours 9016, 9010, 9007, 9006, 9005, 8019, 8017, 8007, 8001, 7042, 7035, 7016, 6005, 5010, 3004, 1013 the other colours of the RAL palette are available at extra charge
STANDARD OF CONSTRUCTION
Triple glazed window 4/16Ar/4/16Ar/4 Ug=0,5 W/m2K with warm edge spacer bars
silicone system seals
MACO Rail-System fittings: bogies with brushes for clean running rail and therefore smooth sash movement, hooked espagnolette with recessed catches for high mechanical burglary protection and modern window design
flush top guide bar - no protruding hardware parts in the window lintel
fibreglass threshold with thermally insulated inserts with 5 mm running rail
handles
ACCESSORIES AND EQUIPMENT
glazing units
espagnolettes with insert
sash lowering shock absorber - an invisible sash shock absorber reduces the resistance force and causes a gentle return of the handle dedicated to heavy sashes
reed switches
automatic closing and opening systems
Comfort Stop sash damper - brakes the sash during opening and closing just before the end position and gently stops it
PARAMETERS
thermal transmittance*: 0,73 W/(m2K)
water tightness: 4A
air permeability: 4
resistance to wind load: C2
acoustic properties:
(*) The provided values of the thermal and acoustic insulation apply
to the reference window of the dimensions 3,0 x 2,20 m
Select a model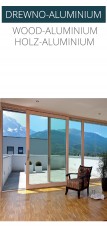 Inspirations