description of the product
Internal entrance doors from corridors or staircases to, for example, flats in multi-family buildings or rooms in public buildings.
DOOR LEAF CONSTRUCTION:
Doors with a fixed wooden or metal frame.
The leaf is made of a wooden frame, covered with two HDF boards. The filling is made of perforated board, optionally solid board, or special POL-SKONE construction (37 dB version).
Nominal leaf thickness 46 mm.
A glass application pasted on the surface of the leaf (protrudes about 1 mm). It is placed only on the external side of the door, i.e. always on the staircase side.
The application is ideally complemented by a metal frame in black RAL 9005 or a wooden frame in black 244 LAMISTONE.
STANDARD EQUIPMENT (INCLUDED IN THE PRICE):
glass application in black colour on the outside of the door
silver-coloured adjustable pivot hinges - 3 pcs.
set of PVC covers for hinges in black
slat lock in black (72 mm) with four-point locking
black reinforced adjustable catch plates silver-coloured anti-theft bolts - 3 pcs.
silver peephole ø15
oak threshold
DOOR FRAMES:
METAL FRAME
WOODEN DOOR FRAME
DIMENSIONS:
Door with wooden frame:
895x2067 mm, 995x2067 mm, 1095x2067 mm
90 plus" version (allows a minimum clear passage of 900 mm. 900 mm
when the leaf is opened by 90°) 1005x2067 mm
It is possible to manufacture doors to non-standard heights.
Doors with metal frame:
897x2068 mm, 997x2068 mm, 1097x2068 mm
The "90 plus" version (allows to obtain the passage length of min. 900 mm
when the leaf is opened by 90°) 1007x2068 mm
It is possible to manufacture doors of non-standard heights.
ADDITIONAL EQUIPMENT (AT EXTRA CHARGE):
size "100"
filling from solid board
colours: SILKSTONE CPL
set of class 6 inserts in silver or satin nickel
drop seal (without threshold)
replacement of oak threshold with stainless steel threshold
stainless steel threshold (for metal frame)
GARDA handle in black
Upper escutcheon GARDA black
WILKA insert in black
sash edge in black, grey or graphite
colour change of standard oak threshold to grey, brown or black - no extra charge

ADDITIONAL INFORMATION:
Select a model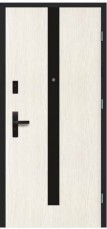 Inspirations