description of the product
HARMONY INVEST
Internal entrance doors for use in public buildings including offices, hotels etc.
Internal entrance doors manufactured in accordance with PN-EN 14351-2:2018.
CONSTRUCTION OF THE DOOR LEAF:
made of a solid pine frame additionally reinforced with a steel profile. The filling is a special POL-SKONE construction. The leaf is veneered on both sides with HDF board package. Nominal thickness of the leaf is 50 mm. The leaf is equipped with a falling gasket as a standard. Frame: solid aluminium, reinforced.
STANDARD EQUIPMENT:
magnetic mortise lock with key (spacing 90 mm), insert (spacing 85 mm) or for bathroom lock (spacing 90 mm)
Frame in anodized aluminium - TECTUS TE 340 hinges in satin chrome, catch plate in silver
Frame painted RAL 9003 - TECTUS TE 340 hinges satin chrome
Frame painted RAL 9005 - TECTUS TE 340 hinges black chrome, catch plate black
Covered hinges SIMONSWERK type TECTUS TE 340 adjustable 3D ("60"-"90" - 2 pcs., "100"-"110" - 3 pcs.)
doors higher than standard - 3 pcs.
descending gasket

ADDITIONAL EQUIPMENT (available at an extra charge):
GEZE Boxer 2-4 concealed door closer
mortise-and-slide lock
Electrically operated deadbolt or deadbolt return
higher door - 2150/2140 +10%
higher door - 2250/2240 +20%
higher door - 2350/2340 +30%
higher door - 2450/2440 +40%
Select a model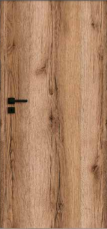 W00
Inspirations