description of the product
HARMONY CONCEALED DOOR
doors available from stock: refers to unpainted raw leaves and width "80"
wooden frame
three-layer painting system
alternatively the door leaf for DIY painting
Unique frame connection ®

PARAMETERS
Mechanical class: mechanical strength class 2 according to PN-EN
1192:2001

CONSTRUCTION OF THE SASH
Door leaf in non-rebated system (outward opening) or in rebated system (inward opening). The construction of the leaf consists of
coniferous wood frame covered with HDF plates on both sides. The filling of the leaf is a cellular cardboard "honeycomb" type,
Hollow or full chipboard. Nominal thickness of the leaf is 40 mm. The structure of the leaf allows it to flush with the
frame.

DOOR-LEAF FINISHING
Smooth painted, veneered or prime-coated surface for DIY painting.
ACCESSORIES
Standard equipment:
concealed hinge (adjustable in 3 planes) satin chrome colour
key-operated, cylinder or bathroom type magnetic lock

Additional equipment (at an extra charge):
perforated chipboard in-fill
full chipboard in-fill
drop seal
additional hinge in the sash
ventilation trim
HOBES 2784 roller lock
preparation for additional hinge (additional fee for the leaf)
other door dimensions - contact our Sales Department
recuperation shortcut - no extra charge
adjustment of door-leaf for mounting a mirror or tile with thickness of 4 mm on one side (solid board and additional hinge required. Number of hinges "60"-"80" - 3 pcs., "90"-"100" - 4 pcs. It is recommended to install the handle on a split shaft).
It is possible to order asymmetrical division of the double door
Select a model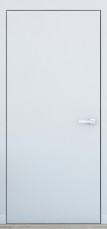 SILKWOOD
PAINTED
VENEERED
Inspirations
Similar products