Blog
New York style doors
Which flat door to choose to emphasise the New York style? What models and colours of the leaves will give the space a metropolitan character? Check it out!

How to create a New York style in the flat?
The New York style of interior design has many variations, but they all have one thing in common - the energy of the city and modernity. In arrangements we often see a colour combination of black, white and grey. This can appear on walls, doors and accessories in various combinations. One popular base is grey walls, white door and door trim and black accessories.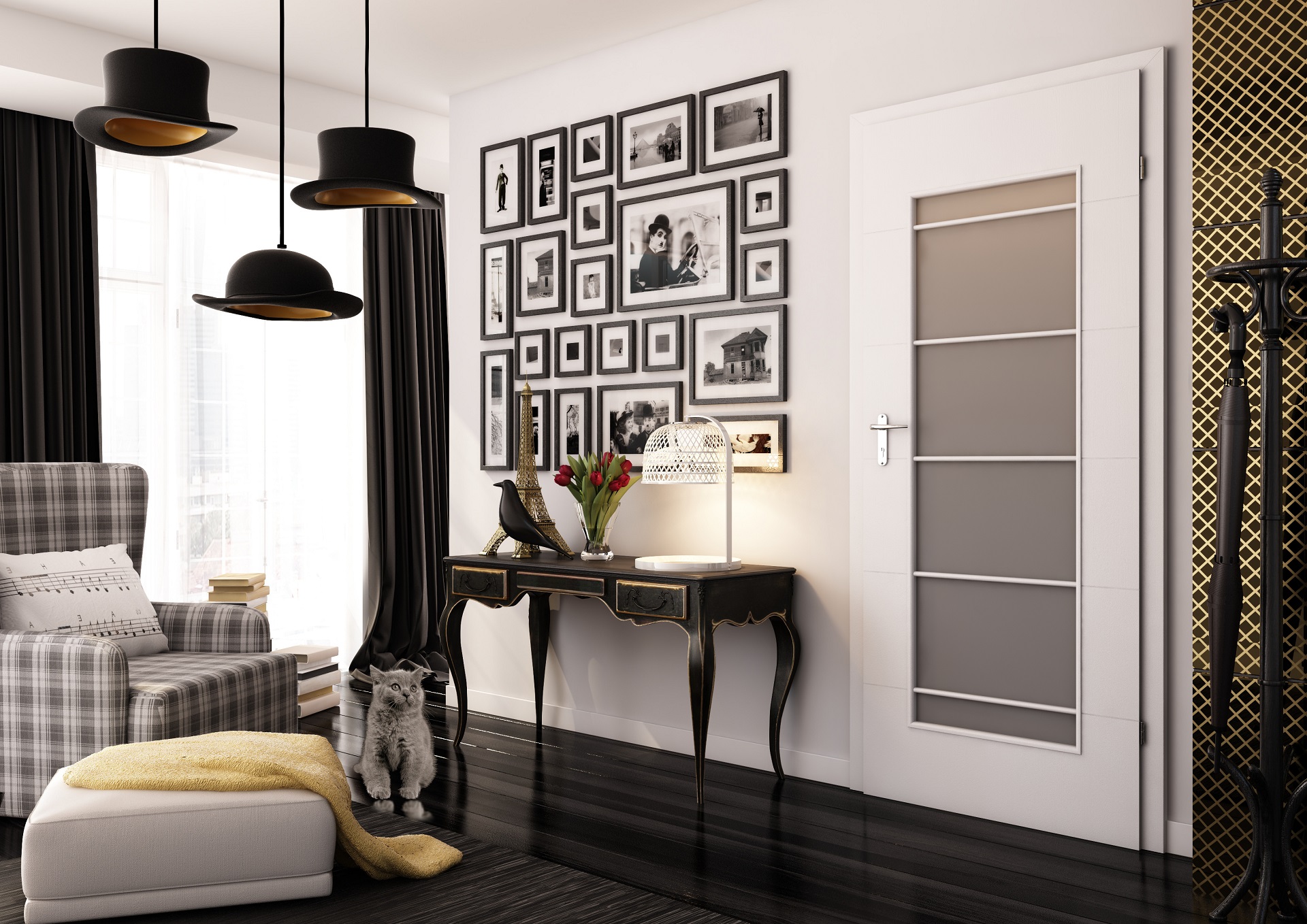 SIMPLE doors, pattern 02, white colour NCS s0500-N
New York style flats can be decorated with sophisticated design. References to modern art are a must in such spaces. As befits the capital of fashion, the home cannot fail to be inspired by trends. In such a flat, we will see numerous collector's albums of design and architecture. Thoughtful combinations of design elements and small details will give the interior character. In decoration, choose well-designed items. Woodwork will play an extraordinary role here. In the POL-SKONE collections we can find numerous door models in the New York style. Spaces will be decorated e.g. by wing designs with stylish details such as: frames, glazing, marquetry.
A popular leitmotif in New York arrangements is the white trio, i.e. the leaves, door frames and skirting boards. The metropolitan style will be emphasised by classic leaf designs. Lines such as NOSTRE with LAMISTONE CPL surface in white 258 will fit into this trend. Black doors with glass are also a good choice. Versions with full or subtle glazing can be found in many collections, e.g. MODERN or INVERNO.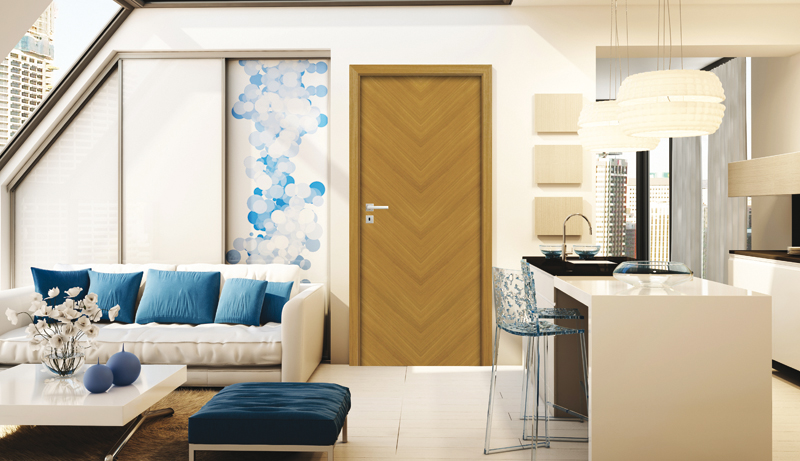 ESPINA doors, version W00, European oak colour, door frame SYSTEM DIN
New York interiors are not just about soft greys and whites. There are also references to nature. Trendy wooden floors or sophisticated veneered door designs, such as ESPINA, in colour oak, fit right in with the nature-inspired trend. For accessories, opt for fresh bouquets of flowers such as white roses.
Tip:
In addition to white or black leaves, you can highlight your space with a wooden pattern while maintaining a New York vibe. The unique ESPINA collection with herringbone pattern completes a designer home.
A cosy micro-apartment or a luxurious penthouse
Regardless of the size, our place will gain the energy of a great metropolis thanks to well-chosen elements of equipment. Attention to detail combined with modern design will turn out to be the key to exclusive arrangements. The principle of a well-considered choice also applies to joinery. Matching interior doors in terms of colour, form and functionality will significantly enhance the prestige of the space. From the POL-SKONE portfolio we will select the ideal door with a sophisticated form.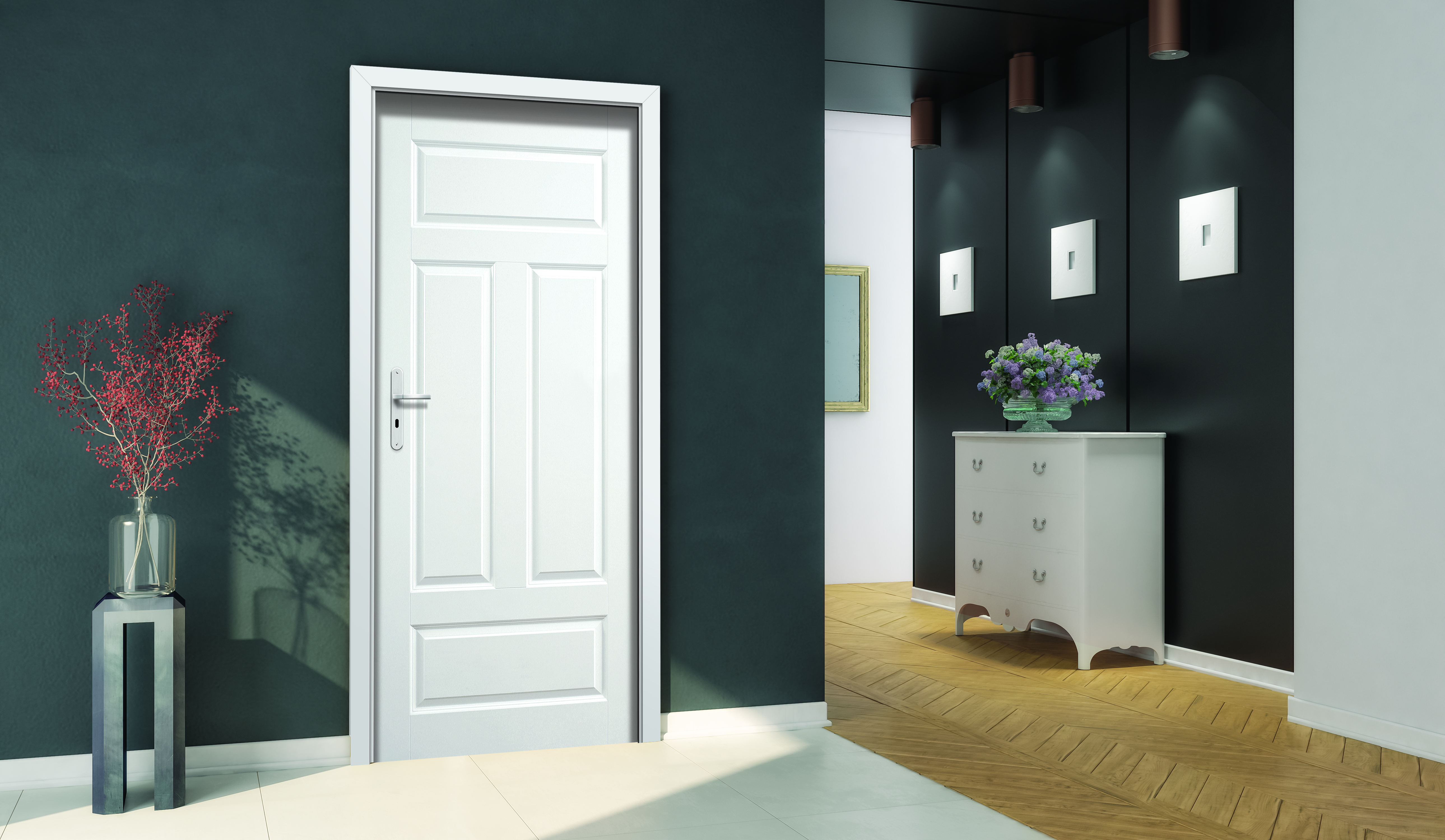 FIORD doors, white RAL 9003, DIN door frame
The penthouse on the top floor, straight out of New York, impresses with its exclusive space. This is emphasised by large windows with a view of the city and high ceilings. Luxury flats in big cities are also bright. A feeling of brightness is achieved by door designs with glass panes. You can choose between translucent or milk glass.
In modern micro-apartments it is all about making the most of the space. Exceptional joinery will help to arrange and decorate a luxurious studio apartment. The New York décor will be emphasised by classic white doors with glass e.g. from the FIORD collection. An interesting proposal will be full grey leaves, e.g. CAMBIO in the HARMONY concealed frame system by POL-SKONE. Take care to add tasteful gadgets such as: a fashionable carpet with an art déco pattern, photos, watercolours. Remember about art elements and books.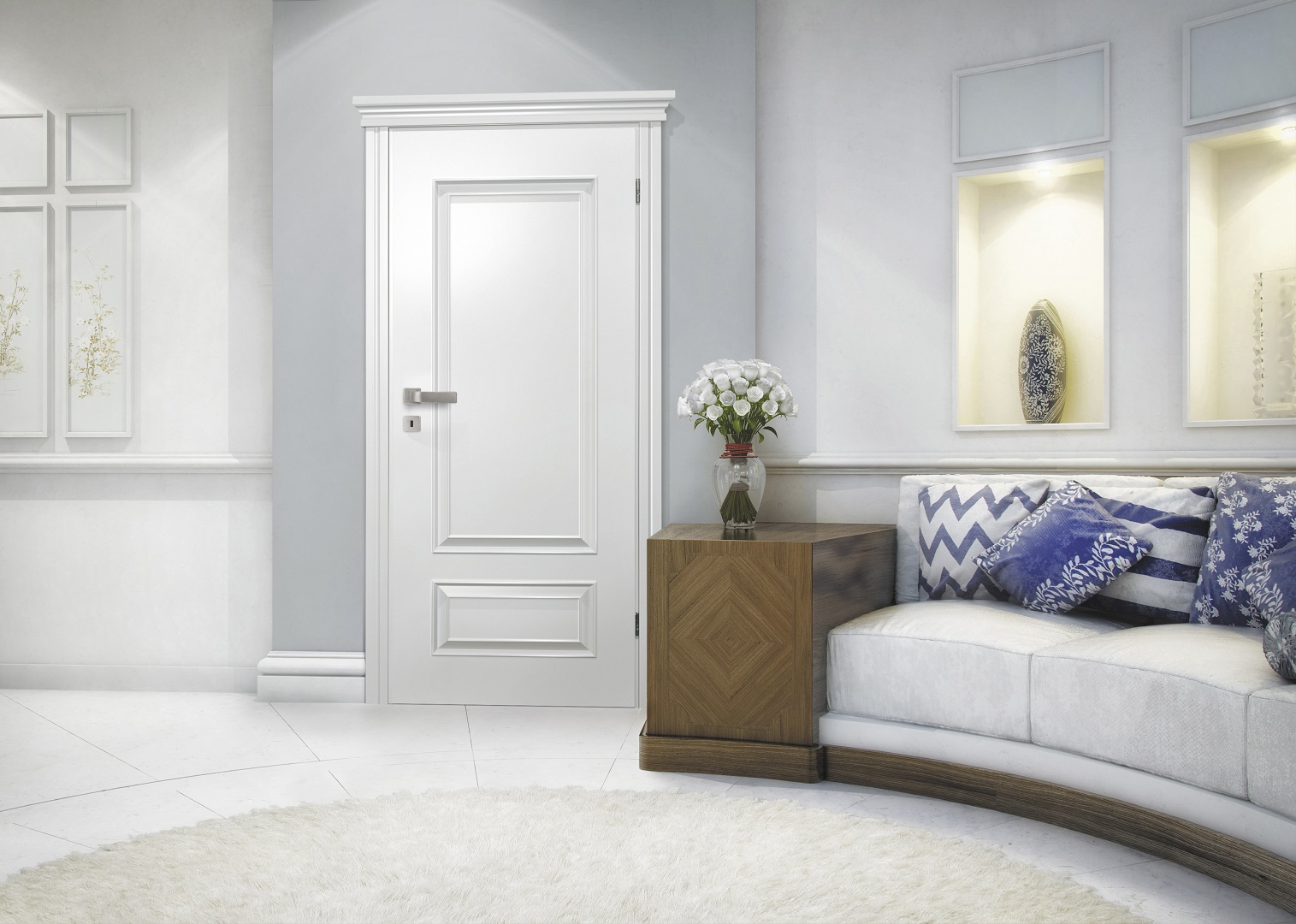 NOSTRE doors, version 03, white 258
Classic doors in New York style:
Look out for leaf designs with decors and decorative frames and glazing
Opt for white, grey or black door colours and match them to the walls and floors
Choose the right frame systems
Office and home in the big city
There is no New York without skyscrapers, office buildings and the rhythm of the city. In today's world, the office is increasingly moving to the home. A New York style office will make remote work more enjoyable. The decoration will be built by glamour elements, white bookshelves, a glass table, mirrors and stylish filing cabinets.
The comfort of peace and quiet will be enhanced by the door carpentry. Full leaves, such as those from the PASSO line, will separate the study from the rest of the house. You may also be tempted by a designer design, e.g. SEMPRE VERSE in white version with a large milky glass pane. In the case of smaller rooms, let's opt for folding or sliding systems. A well decorated home office will be a pleasant and stylish place in our flats.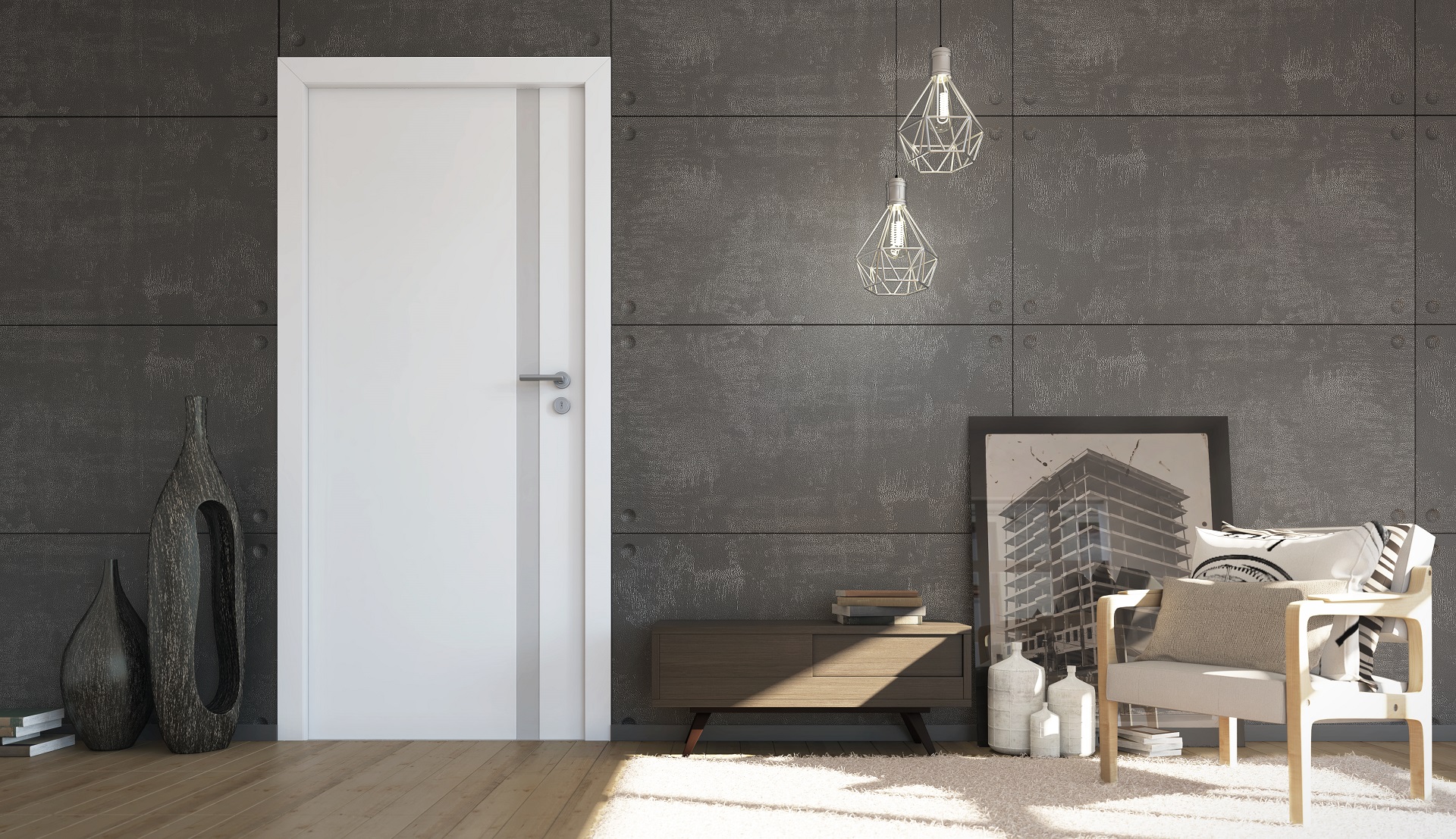 ESTATO doors, white NCS colour s0500-N, DIN frame
Tip:
Full leaves will affect the feeling of intimacy, glazed ones will add a chic touch and bring light into the interior. Milky glass is an intermediate solution.
Back
Rate:
4.3
/5
Dziękujemy za ocenę