Blog
Doors for the loft - top designs
Doors for the loft - top designs
What models and colours should I choose to give my interior design an innovative look? What should you consider when choosing a frame system? We suggest top solutions for an original interior.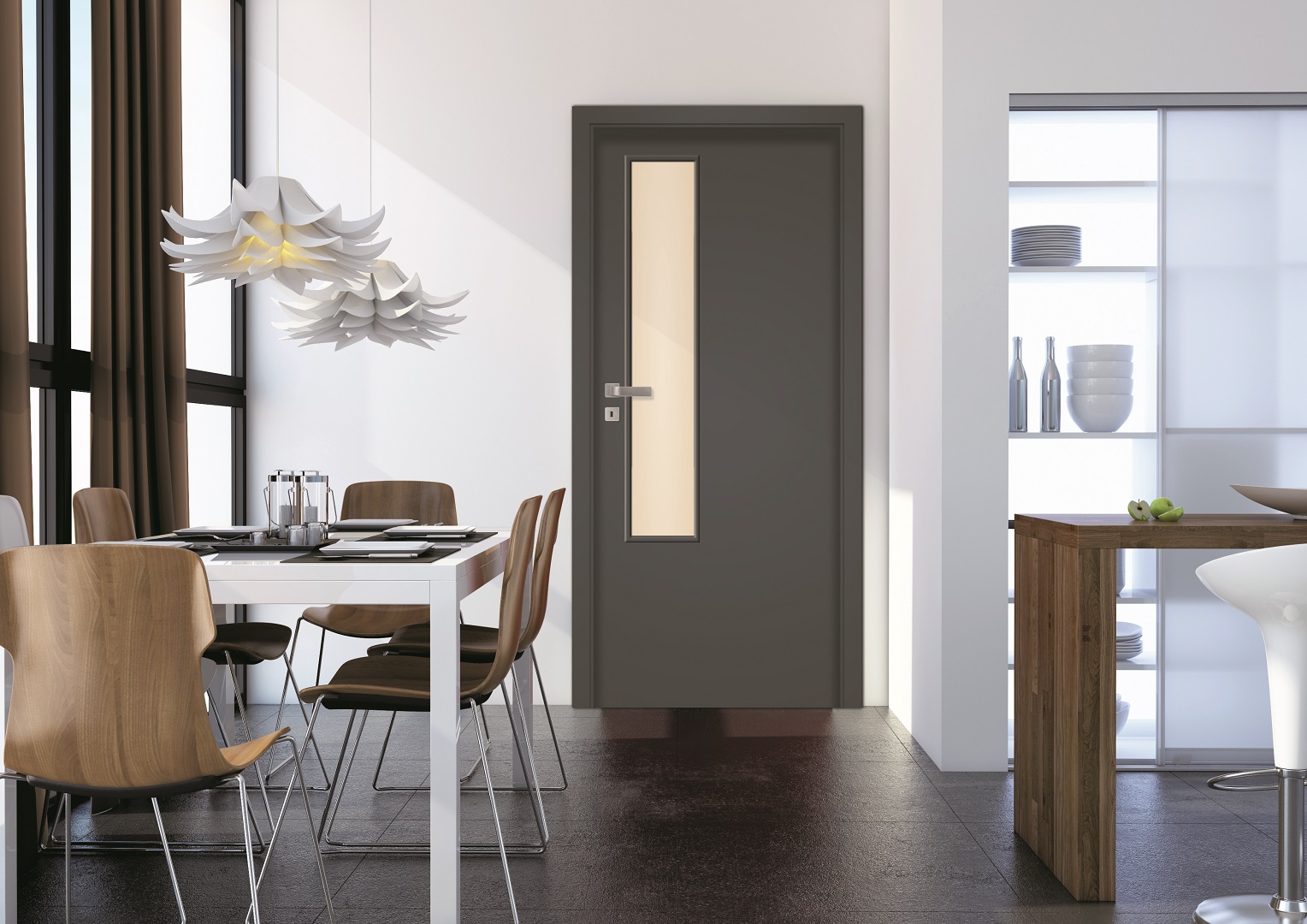 HAPTIC doors, style 04, adjustable frame DIN
Find out:

what distinguishes the loft style,
how to choose the loft style interior doors,
how to match the door frame system with the industrial interior.
What lies behind the success of industrial spaces?
Loft-style flats have been a hit in recent seasons. What makes this style so popular? First of all, it is appreciated for its courage and breaking patterns in interior design. Showing construction elements would once have been considered a design mistake. Today this austerity is becoming its strong point. In old tenement houses we uncover almost antique beams or walls with bricks. In new properties we can see ceilings or unplastered concrete walls.
Secondly, this trend reflects the character and energy of the city. Nowadays, we arrange flats in such a way as to facilitate our fast-paced metropolitan life. At the same time we want to emphasise individuality. The subtle atmosphere of a factory and references to industrial design are the key to a fashionable arrangement.
Thirdly, we appreciate the attention to details of space management. On this usually small area we place the necessary living zones. Kitchen, bedroom and living room intermingle with each other. Mezzanine floors often appear. Hence, a property arranged in the style of a "sophisticated loft" should be well designed. Every square metre and restraint in decoration counts here. Fixtures and fittings have a specific utilitarian and decorative function. An important role is also played by internal doors, which we select according to the needs of the interior. Let's get to know the possible options of woodwork designs that match a modern flat.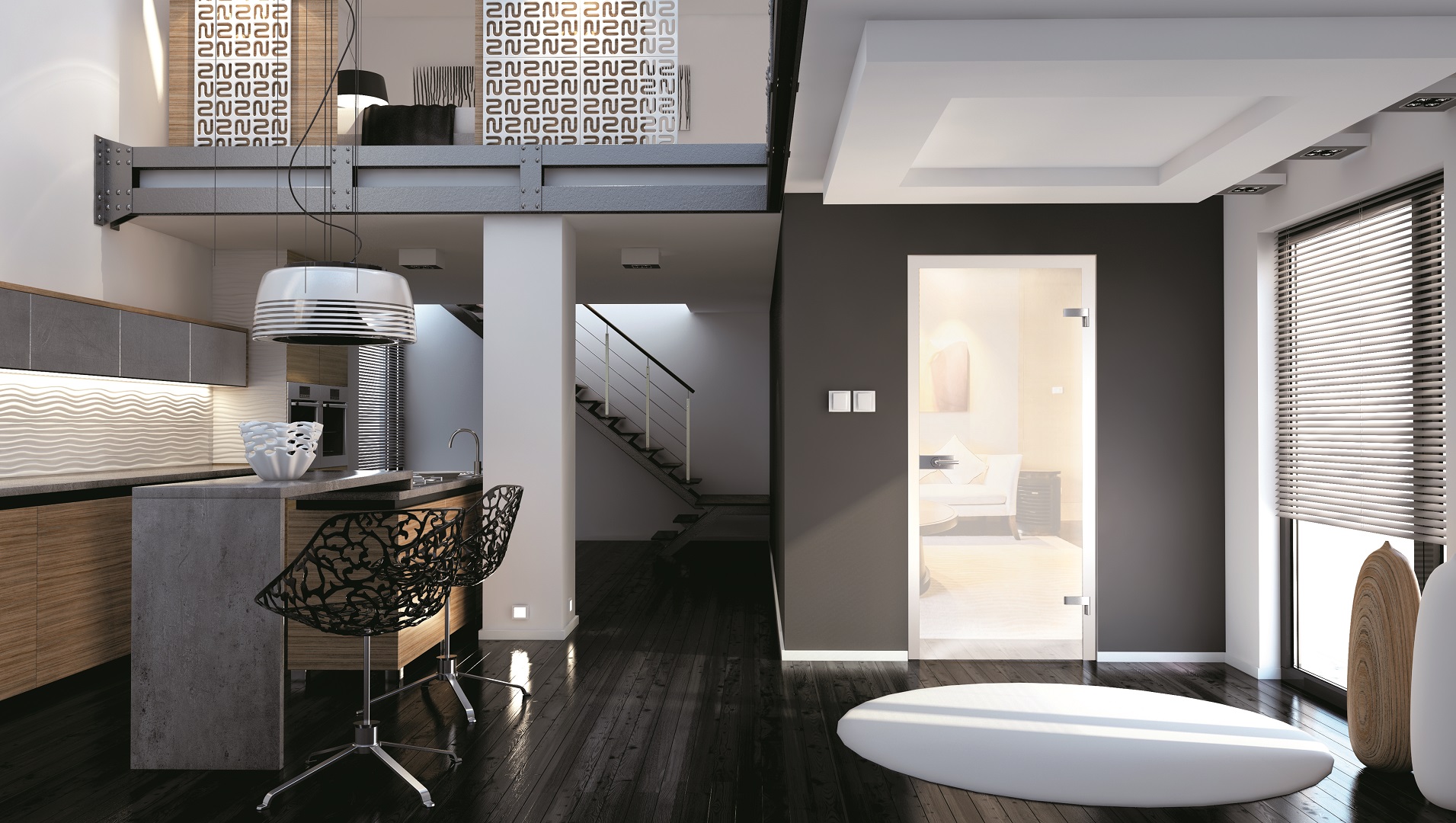 LUMEN doors, version I, LUMEN adjustable frame
What design should I choose for my modern home?
Choose a design that will create a harmonious whole with the interior design. Opt for finishes and materials that match the interior. A touch of glass will certainly add a modern touch. In POL-SKONE's offer you will find fully glazed models, e.g. LUMEN with a tempered pane mounted on a special adjustable frame. For the bedroom or bathroom we can choose versions with glass in the colours: white satin or graphite. Designs with vertical panes, e.g. from the ESTATO or ESPINA collections, will also enrich a fashionable dwelling.
Industrial spaces will be emphasised with metal accents, e.g. in the form of decorative aluminium door trims. Designs with aluminium decors are offered by SEMPRE ALU or ETIUDA LUX. Interesting designs can be matched with special collections. DECO INVEST models with portholes and a stainless steel profile will prove to be a strong point of our property.
Remember about minimalist designs with a smooth finish. These can be found, for example, in the CAMBIO painted collection. Plain doors such as IMPULS or ETIUDA are also available in LAMISTONE CPL or SILKSTONE. Lofts will also be decorated with designs featuring unusual solutions. These include the addition of a mirror or blackboard. Door models with a blackboard are a hit with SEMPRE and SEMPRE LUX. There is no need to remind how useful and practical magnetic boards are. We can write down necessary information or inspirational sentences for our household members on them. Additionally, a mirror in the door is an elegant solution enlarging the space.
Lofts are based on originality. Let's keep it in mind when choosing the style of interior doors.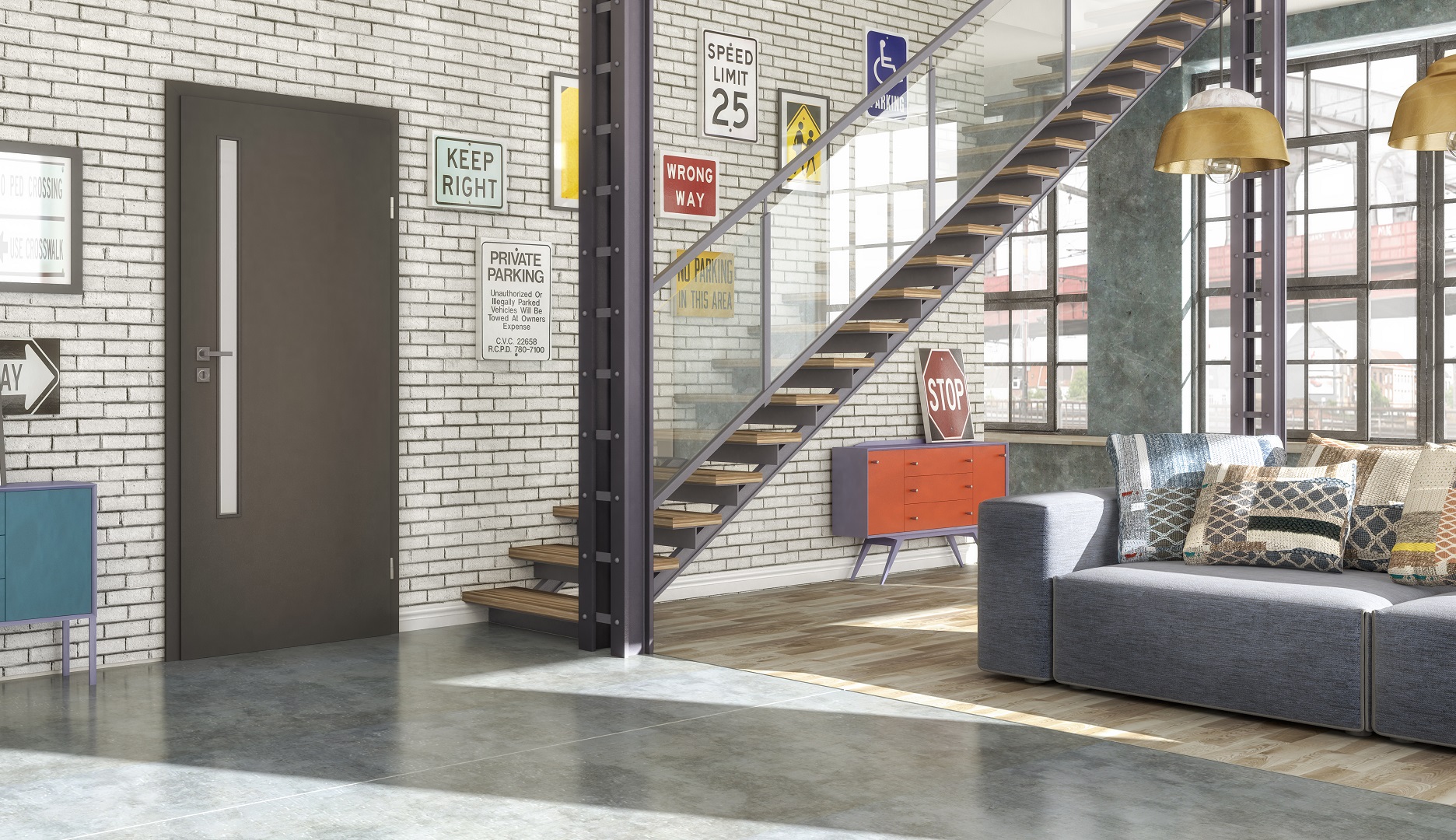 DECO doors, version 05SD, DIN door frame
Carpentry in industrial colours
An industrial flat in a block of flats will be complemented by classic shades of black, grey and white. Subdued colours will add a stylish touch to the property. White and black colours will allow you to sneak in retro designs such as FIORD or MODERN. Black modern doors such as TIARA will highlight lofts. Grey is also a good choice, which can be selected from the colours of LAMISTONE CPL or LAMINATE. Shades of industry or anthracite will match the character of the industrial interior. If we are looking for an option other than a total black door, let's bet on the detail of black.
TIARA doors, style W06, DIN frame
Not only solid colours, but also wood motifs will suit industrial design. The prestige of the house will be emphasised by veneered door leaves in light or dark shades. POL-SKONE has introduced to its offer designs in two colours: European oak and black for the collections: DECO LUX, SEMPRE LUX, ESTATO LUX and ESPINA. The solution will perfectly fit into fashionable interiors.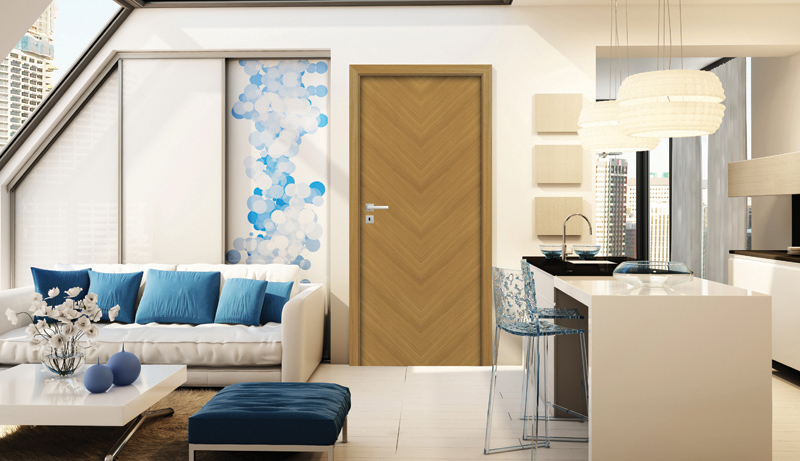 ESPINA doors, version W00, DIN DUO frame
Modern frame system
Sliding loft doors are gaining in popularity. POL-SKONE offers various sliding systems, e.g. MOVI. Doors mounted in it look extremely light in the interior. A fashionable solution are also doors hidden in the wall. The HARMONY concealed door frame system fits into the trend of minimalism in space. Thanks to the flush surface of the leaf with the wall, it becomes an integral part of the interior. Door leaves in the rebate-free system are also a good choice. They give the impression of spaciousness, and invisible hinges make the door look extremely light.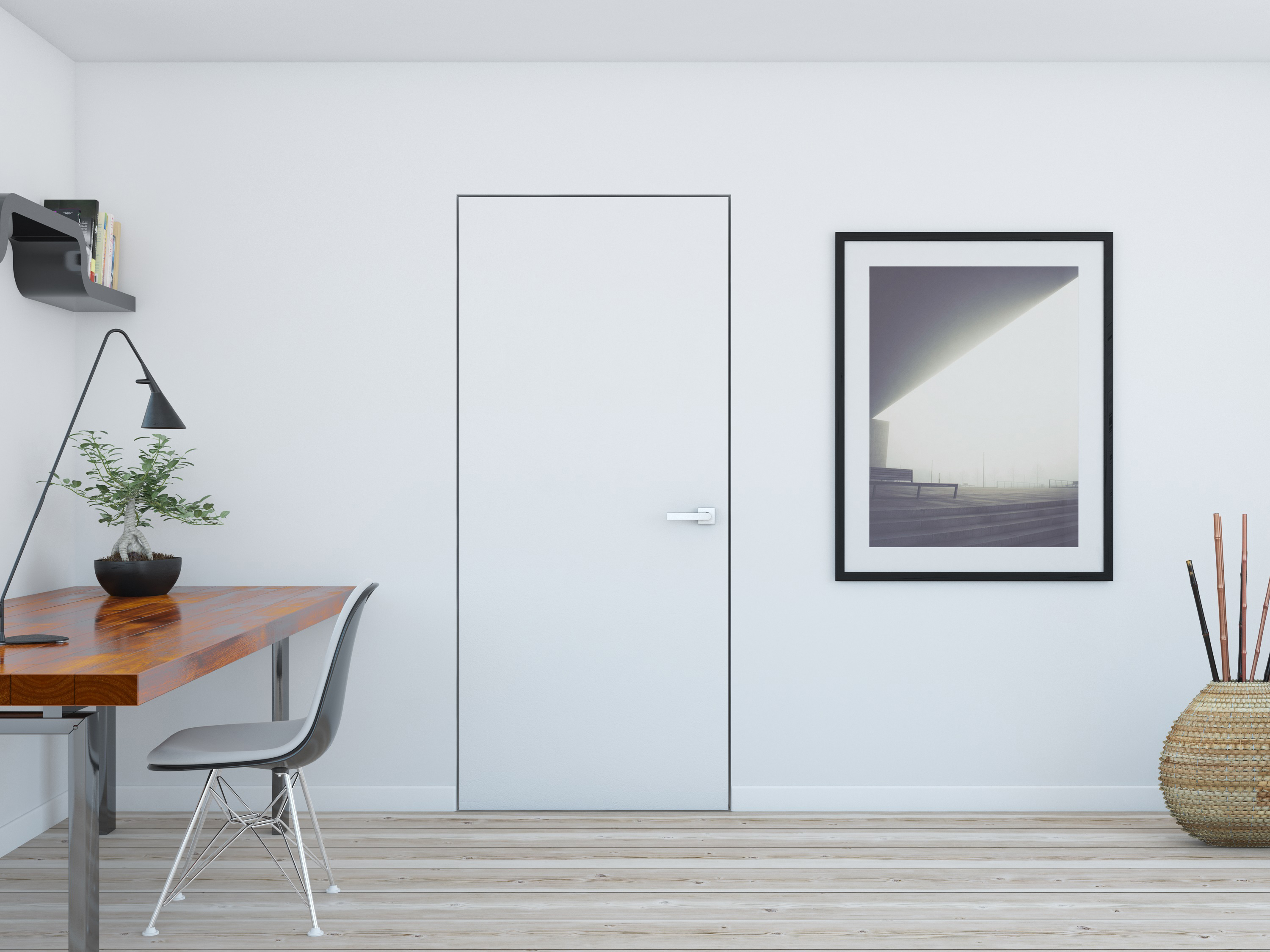 HARMONY POL-SKONE concealed door frame

When choosing interior doors for the loft, pay attention to:

leaves in shades: black, white and grey,
original designs: solid, with glass or aluminium decors,
non-rebate systems (e.g. DUO, DIN DUO, VERTIGO), concealed frames (e.g. HARMONY) or sliding versions (e.g. MOVI).
Back
Rate:
4
/5
Dziękujemy za ocenę