Blog
Always on trend, classic black
Creating a beautiful home requires making many decisions - from choosing flooring, wall colour, furniture, and lighting to the smallest details such as door hardware. While door handles and hinges may be considered unimportant, this finishing touch is crucial in creating a cohesive vision for your home. When choosing door hardware for a renovation or new home, it is important to take thoughtful action, as this investment will be with us for years to come.
What issues should be considered in order to make the right choice and achieve the desired effect?
1. The general appearance of the house
To make sure your choice of new handles makes sense, first decide on the overall look of your entire home. When considering your approach to interior design, think about the overall character of the interiors, this could be classic or modern, or a mix of styles with your own individual touch, using the right colours and patterns.
2. Colour
By choosing the same colour for fixtures and fittings throughout your home, you will achieve a consistent and thoughtful look. It's a good idea to investigate matching the colour of your door hardware with your bathroom or kitchen fittings. Even window frames can be considered in this process.
Just like in clothing fashion, black goes with everything, regardless of colour scheme or design style. Door leaves in white and natural wood look fantastic with black. Black door hardware, frames and also decors are commonly used in modern and industrial rooms, but also in traditional and Hampton style rooms. A good example of this combination is the LOFTY door leaf in oak halif 231, combined with a DIN DUO frame in black. The black IBIZA handle gives the whole thing an elegant and modern look. Black door fittings spectacularly complement the texture and grain of natural wood.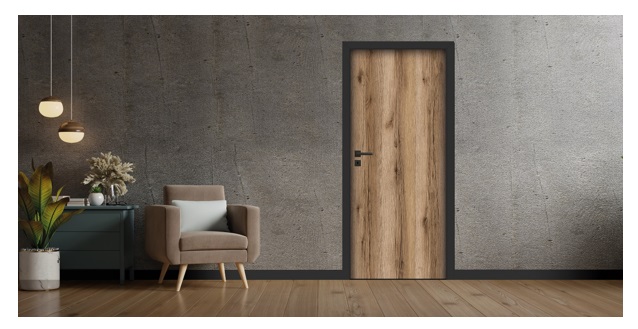 The matte black finish is extremely sophisticated and directly associated with technology. A black handle goes well with different colours, as well as with classic white. It can perfectly enrich any door and give it a new and unusual look. This is exactly the case with the TIARA door in the version with decor in black aluminium on a DIN frame. As standard, there is a magnetic lock face plate and DUO hinges in black, which are perfectly complemented by a black INVERNO handle.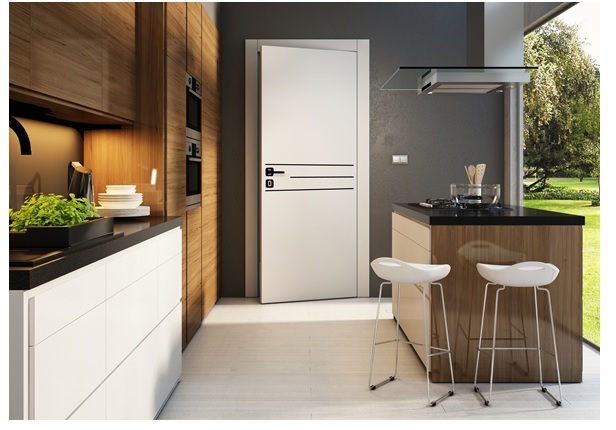 3. Round or square rosette, handle style or design
Door handles are available in many different styles. ARABIS is a classic square design. VERANO is a handle with a round escutcheon with a more elegant character. The black PRIMAVERA handle, on the other hand, is a modern design with no round elements at all. Once again, you can choose a consistent style for door handles, matching fittings and handles for kitchen or bathroom cabinets.

All the handles mentioned above are a perfect match for the doors from the SONATA collection, which will be the perfect crowning touch to interiors with industrial features, giving a sense of liberation from the prevailing standards. Black aluminium decors set in different variants can be combined with laminated edging of the leaf in black and light colours of bleached elm, sand and grey with vertical or horizontal grain.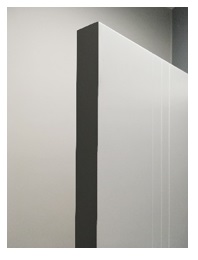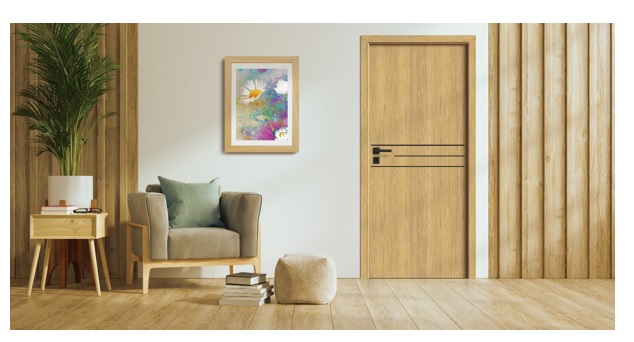 4. type of hinges used
In the BLACK collection we can find HARMONY and DUO adjustable hinges dedicated to doorless systems. Black T-type hinges will be used in rebate systems (for DIN and metal frame). An additional option is the use of black covers for hinges, as well as black metal plates and lock inserts.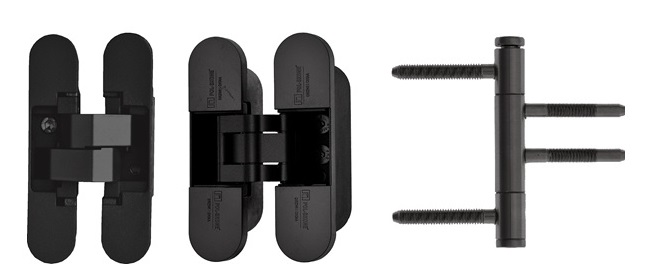 5. quality
New homes or renovations are an investment for many years. It is therefore important to choose quality door hardware that will stand the test of time and repeated use every day, especially for entrance doors and doors with heavy traffic. It's not just the mechanical and structural quality that is important. The colour finish of the door handle should also be a consideration. It has been proven that the door handle is the most frequently touched thing in the house. Unlike chrome hardware, fingerprints are much less visible on a black handle.
If you want your design to be striking and timeless, black door hardware may be just what you are looking for. Black door handles and accessories add a modern touch to most interiors. Black is a relatively bold yet sophisticated and subtle colour, and used with the right materials will work well in a variety of styles.
For best effect use black with a light accent colour. This way you will achieve the greatest contrast, which will give your interior an extra dimension.
Back
Rate:
5
/5
Dziękujemy za ocenę